I'm part of this online group, Sew Bee It, through my BFF
Shanna
, and it's hosted through
Flickr
.
The ladies for August and September live in the UK. Well, August did not arrive until August 31, while the September fabric arrived around September 9th. So apparently it takes 1 week - 1 month for mail to arrive from the UK.
August: Paw Prints


September: Churn Dash Redux
There was enough fabric for August for me to do 2 blocks. The queen wanted anything that came out to 12.5" blocks. I made paw prints and a cobblestone block.
September queen wanted a specific pattern with solid white in the "geese" and outer corners. Did not quite have enough fabric for two, did manage to get one done. I loved her color combination and wished I had enough of the solid black to make block #2.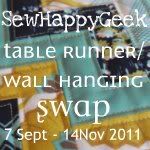 Giving myself deadlines seem to inspire me. Or at least off my duffer to do something. I decided to sign up for
SewHappyGeek
table runner/wall hanging exchange. You have until Sept. 30 to sign up. The table runner/wall hanging has to be finished by Nov. 15. See, deadline, helps me. I'm on board!