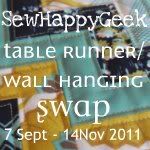 I joined the online swap organized and hosted by
SewHappyGeek
.
I came up with this color combination after "stalking" my partner on flickr:
The starting point/inspiration
She said she loves it. AWESOME! Then came the issue, what the heck to make. She wanted a table runner. I've never made one, so it was going to be an interesting experience. I decided to do a zig-zag pattern. After dealing with angles that do not always line up like I was hoping, I decided to make it more patchwork looking. I did a strip of flying geese, then they kind of started curving. So that part will be added to the zig-zag.
different angle
Finished table runner
Now, I had to think of what to put on the ends so it can be oblong for a table. I decided to do a simple quilt block called a Cobblestone. I really like this pattern because it uses only 2.5" strips and the blocks finished 12.5" square.
1/2 backside of table runner
The back ended up being scraps. I used a fat quarter of the stripes in the center and the strips on the sides, creating a generic back side that my partner can use as well.
label: made by me!
One of the minor details is doing a label, which I cheated and wrote on a small section using the micron pens that doesn't bleed.
I machine quilted the entire project. I used tiny scraps to put the binding on. So tiny, you can barely see it, but that's ok, I used the scraps! Waste not what not. I highly recommend using the quilting spray adhesive for a small project like this, my cats were not fond of the fumes.
Deadline to be mailed to my partner: Nov. 15. I work well under pressure and with a deadline apparently. :-)